Zoom the image with the mouse
AXOLOM The Squire 3-IN-1 STP with Pleasure Ridges
The Squire is a circumcised stand-to-pee with no-spill lips. It has a soft texture, detailed veins and folds as well as pleasure ridges. He...
The Squire is a circumcised stand-to-pee with no-spill lips. It has a soft texture, detailed veins and folds as well as pleasure ridges. He might not be the biggest, but do not be fooled! Despite his small shaft, The Squire gives a decent buldge and empties itself quickly.
Please note that this model is intended to be a 3-in-1 prosthestic. It is a perfect Packer and Play when with a Squire Rod inserted. (Rod sold separately)
As always, all our products are made from food-grade silicone (FDA approved). Besides, thanks to their non-sticky property, there is no need to powder them after cleaning.
| | |
| --- | --- |
|  Shaft Length: | 3.46'' (8.8cm) |
|  Total Length: |  4.72'' (12cm) |
|   Funnel Width: |  2.2" ( 5.6cm) |
|  Diameter: | 1.5'' (3.8cm) |
|  Weight: |  5.86oz (166g) |
Click the below image to watch Review Video: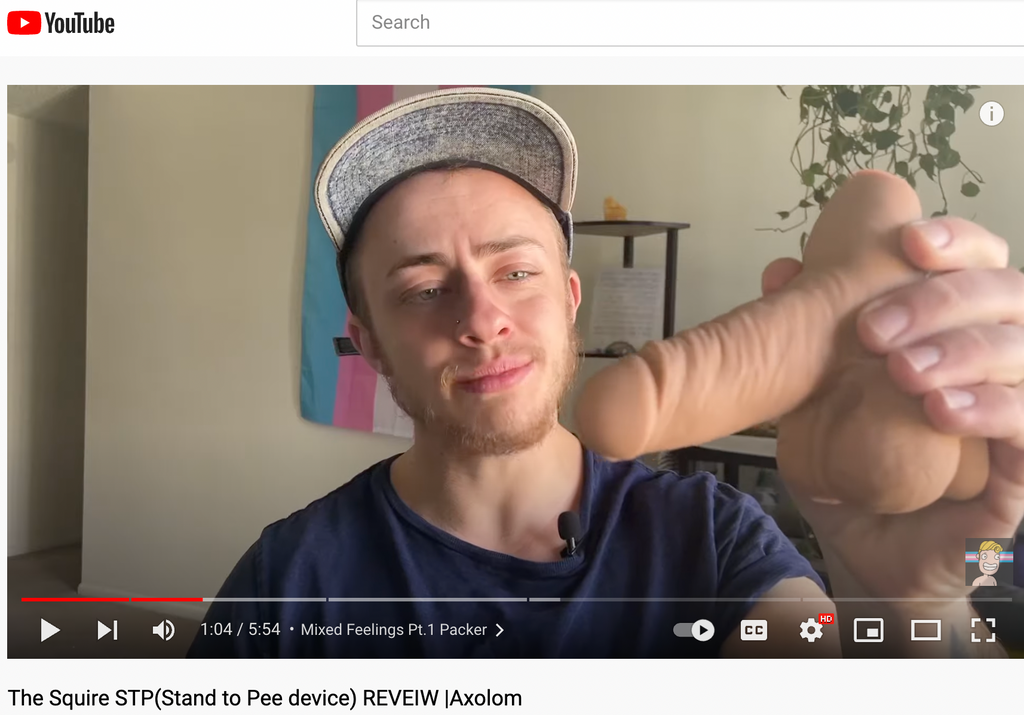 i like it, but it requires practice
this is my only complaint, but it might be due to my own "technique" — with the size of the bowl and way it is shaped, it has been inevitable to have a bit come out of the back when using it as a STP. i've seen this same complaint in other reviews as well so i would say that's accurate, but i assume that is more or less what you'll get with any STP. that said, it has gotten a lot better with practice, which was to be expected. after practicing for around a week, i am very close to being able to use it without wetting myself. to summarize: i like the realism but absolutely practice before using as a STP.
This is a lifesaver!
I wasn't expecting much but I was blown away by this product. It's smaller than expected and so was the cup so I was a little worried that there would be leaks but there wasn't at all. I didn't even really have to control my stream to use it. It was super easy! I agree with other people that it can look erect but if you have a harness with an extra strap to hold it down it works great to pack with. It's perfect for if you want a smaller, average looking bulge in your pants. Overall I'm super happy I purchased this:)
Happy with my dick!
Overall I really like this stp/packer. It works super well as an stp, the cup is very big and easy to position even for beginners. It does require a harness to use as a packer, since it's a bit firmer than non-stp packers and will look like you have an erection otherwise. I'd recommend a harness with an extra strap that goes over the end of the shaft to hold it in place.
The material is really soft and doesn't get sticky like other packers, and is super easy to clean and quick to dry. I didn't find that the pleasure ridges did much for me, but if you have a small enough bullet vibe, putting one inside the stp can be gender affirming and fun! I'd love to see a rod that goes inside this packer for play that doesn't cover the pleasure ridges, or has ridges on the end of it instead of just being smooth. I feel like suction could also help - with the tip held closed with a finger, the pleasure ridges work a bit better, however that's kind of inconvenient positioning. A pack and play rod that somehow adds to the suction factor and still provides pleasure ridges would be amazing!
All in all I'd rate it:
- 5/5 for stp, since it's super easy to position and quick to clean.
- 4/5 as a packer, since you do need a harness that can hold it securely in place in order to avoid looking like you have an erection, but that's common for many stp packers.
- 3/5 for play/self pleasure, because unfortunately the end of the rod covers the pleasure ridges. However, closing the end with your finger for suction or adding a vibe works nicely. I was just hoping it would require less finagling/DIYing for the price point. It's also a bit short even when the rod is in, so may not be the best option for penetration with a partner.
If you're not super concerned about using this for play (or don't mind messing with it a bit to make it work for you) I'd definitely recommend this dick since it works so well as an stp and is also a nice packer if you have a harness. It's also high quality especially for the price, and is easy to clean and sanitize. It also came with a very cute trans axolotl keychain :) thank you to the folks at axolom!
Hi Beck,
Thanks so much for your comprehensive reviews! That helps people know much better on this item.
Best regards!
Buono
Ottimo materiale, ma un pochino scomodo per quando vado in bagno, ma tutto sommato ha una buona qualità del prodotto
worth it!!
This thing works amazingly!! I've had negative experiences with other brands of STP in the past and was ready to give up on finding one, but I came across Axolom and decided to give it a try and I'm so glad I did. Super easy to position, no leakage, and drains quickly- there's not much more I could ask for out of something like this!
Shipping
Shipping time: Typically 10-20 days to the USA, Canada, UK, Europe and Australia. Note that there are restrictions on such sensitive items, and cannot be shipped to some destinations.
When you place an order, we will fulfill it within 2 working days. After we ship out the package, there will be an email with the tracking information. Generally the tracking info will update in 7-10 days when the package arrive the destination country and picked up by local carrier.
Returns Policy
As the sensitive nature of the prosthetics, all sales are FINAL!
Buyers agree to use this item at their own risk. This item is not a medical device, and no medical use for this item is stated or implied. Using an STP packer can take practice. There is no guarantee this item will work for you since every individual's body is different. Due to the sensitive nature of this product, all sales are final. Please make sure you have double-checked the size guides, and have selected the correct item.
If you receive a defective product from us, please contact us by email: info@axolom.com to replace it.