3 Tips for Axolom Monsieur Wiggle | Affordable Self-Adhesive FTM Packer
3 Tips for Axolom Monsieur Wiggle | Affordable Self-Adhesive FTM Packer
Transgender people often experience discomfort with their anatomy not aligning with their gender which is known as gender dysphoria. 
Mentally some trans* people have a really hard time with seeing their anatomy and usually subjected to additional garments, harnesses, and/or straps. If you want to bypass those and use a self-adhesive FTM packer but then you're faced with the $200 STARTING price tag. This bars many from being able to get an affordable self-adhesive FTM packer. Not anymore.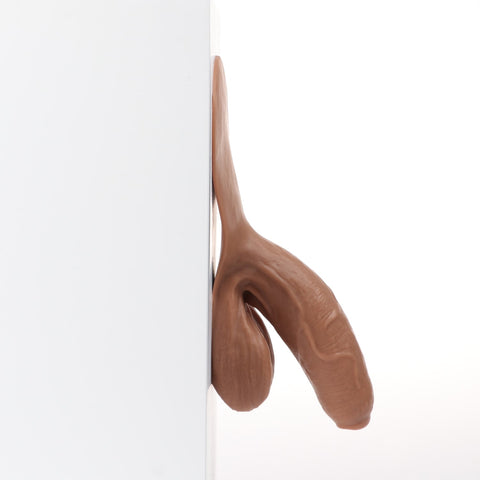 Monsieur Wiggle is an uncircumcised, naturally bent packer with detailed veins and folds AND it's as affordable as it gets for fighting dysphoria with a quality prosthetic. Regularly $56, this self-adhesive FTM packer includes a shaft length of 4.92'', a total length of 5.5'', and a diameter of 1.52'' (3.85cm). Finally, the weight of the Monsieur Wiggle is 10.23oz which is a little over half a pound!
Since I'm a very sensory-affected person, the fewer straps and layers the better I feel. People that have sensory issues often are very particular about how things feel. So for there to be a self-adhesive product that you can trust against your body without feeling dysphoric is a big win!
It has a soft texture, a long and girthy shaft as well as elongated balls. This product also has a tab that may be affixed to the body using self-adhesive sheets*. This will provide you with a feeling of natural movement as you move with this FTM packer. If you do not wish to purchase self-adhesive sheets, you can always tuck the tab under the elastic band of your underwear. 
*We do not currently offer self-adhesive sheets, but they can be purchased on other websites such as GenderCat here. This can be quite the process so there are few things to know about having a prosthetic that uses adhesive.
1.Some Products Ruin The Stickiness of the Adhesive
GenderCat says to "Test your skincare products, soaps, condoms, lubes, or any other products that might come into contact with your prosthesis for cure inhibition using the technique described in the video here. Cure inhibition is when something like skincare products, soaps, condoms, or lubes cause the adhesive to completely lose its stickiness." They have YouTube video tutorials to explain how to apply the self-adhesive sheets using the two syringes (Part A and Part B). YouTube is a great resource for the community to learn more about how to successfully use these products. Since the technology is still very new, there is a learning curve, but once you get the hang of it, you can use the self-adhesive on any prosthetic with a silicone tab! Just like the Monsieur Wiggle. ;) 

2.Trimming May Be Required
You'll find the GC manual mentioning "For best adhesive properties wash, DRY and trim hair from where you will be sticking your prosthesis (up to 1/4inch trim is ok for packing)." When I first learned that shaving cream and razors with blades WEREN'T the only way to shave, I was shocked. Probably because no one really explained this to me but oh well! Now that I taught myself I can share that information with you reading this. :) If you can spare $20 - $30 get some of the buzzing kind that is either battery ran or electric. This will help you trim down to a natural ¼ inch with no attachment on it with minimal effort! 
3.Do You Run Sweaty? This Can Affect Self-Adhesive.
The only downside I've noticed is the self-adhesive performance during high humid weather. Sweat and moisture can make the self-adhesive less sticky and you may find you need to dry it throughout the day in hot conditions to bring its stickiness back. If you are blotting it dry be sure to use a lint-free cloth. If I were to use these as a daily packer I would be sure to add a small cloth in my pocket to use when I re-adjust in the bathroom. 
For me, I prefer to use my self-adhesive with a packing pouch like the MyPack or a jockstrap like these at TranZwear. "You may find that adjusting your prosthesis slightly higher or lower provides better adhesion. Please experiment to find the best positioning for you. 😊" - GC
The benefit to Axolom's products is that the price for the packer itself instead of starting at $200, the Monsieur Wiggle is less than $60 USD. Axolom's goal is to provide quality products at an affordable price to help all trans people have easier access to quality products to embrace their bodies and/or fight their bottom dysphoria!
As always, all Axolom products are made from food-grade silicone and can be safely boiled for sterilization purposes. Besides, thanks to their non-sticky property, there is no need to powder them after cleaning. That means they keep that fresh feeling without having to spill baby powder everywhere.
---